TheBesTTraders.com

Provides Precise Razor Edge Pivot Forecasts for:

As far as I am concerned there is NO EQUAL to Steven (PK) and his pivots. His insight and knowledge (also reflected in the pivots) truly pinpoints "TO THE TICK" the levels on just about any instrument. It's been proven time and time again which means it's real. – John Kassabian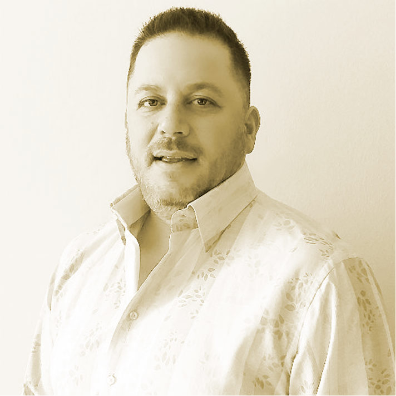 Introducing:
The Pivot King
Steven aka "ThePivotKing" is the creator of The Pivot King Method. A highly effective trading system when used right that helps provide relatively low risk, high probability trade setups that are derived from mapping out Pivot Levels with specific levels of support and resistance.
These well defined levels provide some sort of risk definition which will help you in area's on where to place your stops along with potential trade targets. Also, these well defined Pivot area's give you the tools and a trading plan in a way that a trader can take control of his/her own trades using there own analysis.
You can choose to use The Pivot King Method for day trading or swing trading or even both. Steven has been trading full time now for around 5 years but has been involved in financial markets for around 18 years.
Why to Become a
Member?
Becoming a subscriber to
TheBesTTraders.com
you will receive nightly daily videos covering a wide range of ETFs, Futures and Stocks along with a bundle of charts that were covered in the daily video in which you will be able to download to your computer to prepare for the next trading day. You will also have access to live time with Steven in The Best Traders Forum. Click the button below to get a 15-Day Trail for only
$7.00
Live Trading Forum

The Pivot King

Members can interact with Steven live in the Forum along with a host of other analysts live in The Best Traders Forum. This is the place to ask questions and learn from other experienced traders that have taken The Pivot King Method Course. The Forum is always busy and many are active 24/7 in the forum.

Daily Video Market Updates Newsletter

Access the nightly video in which Steven covers and explains a wide range of ETFs, Stocks and Futures along with a bunch of charts that will get your prepared for the next trading day.

Real Time Block Trade Notifications and Market Internals

The Real-Time Block Trades Data that are visible on charts and Market Internals is one of the best tools and pieces of information on where the big money is positioning. One of the most valuable resources

TheBesTTraders.com

offers becoming a member.

Member-Only Webinars

Taking part in the webinar classes hosted by Steven and the other analysts is the best way to really grasp knowledge and learn tricks in trading these markets. It is highly advisable members access these webinars when they are made available on a weekly basis. Only

The Pivot King

Course members are able to access these live webinars.
Why Do
You Have A System Called The Pivot King System/Method?
Well, I found thru all the years being a trader that you need a system when trading. Without having a system in place you are basically gambling or entering in a room with a blind fold on and you don't know where you are heading.
Having a system that I built for myself that I am willing to share gives me direction and confidence in these markets. Without a trading system you are basically trading blind.
You have to have a trading plan built on rules which gives you a direction on what you should be doing if a trade is triggered.
Some examples of these rules I have made are when you should sell half of your position, what target you should be aiming for, where to put your stop, what to look for in a reversal, counter trend trading, when to buy the dips and much more which are covered in my trading course.
If you don't know any of the points I just mentioned before entering in a trade, THEN YOU SHOULDN'T BE TAKING THE TRADE. The Pivot King Method is based on trade setups that give you triggers. Those trigger setups are area's that are well defined risk area's and levels. The Pivot King Method that I have built for myself is what I use when day trading and or swing trading within these markets.
Without a system that works for you or your (Personality), you should not be trading. That is called gambling and I am not a gambler. There is a big difference between a gambler and a trader.
You basically should not be taking a trade if you don't know where you would put your stop, where you would be taking off some profit and what your targets are. If you don't know this information THEN YOU SHOULD NOT BE TAKING THE TRADE in the first place.
The Pivot King Method that I have built for myself establishes these defined rules that keeps me in check when a trade setup is in place.
What Traders
Are Saying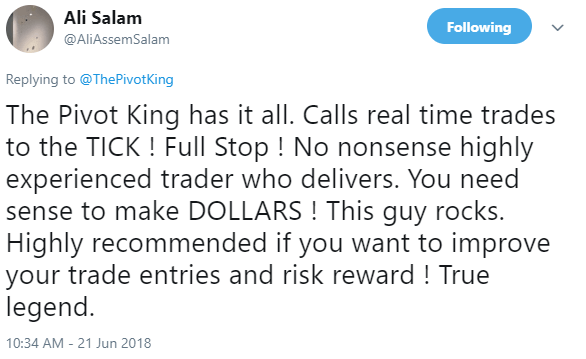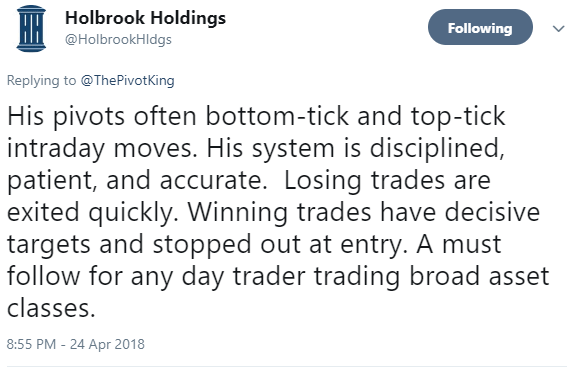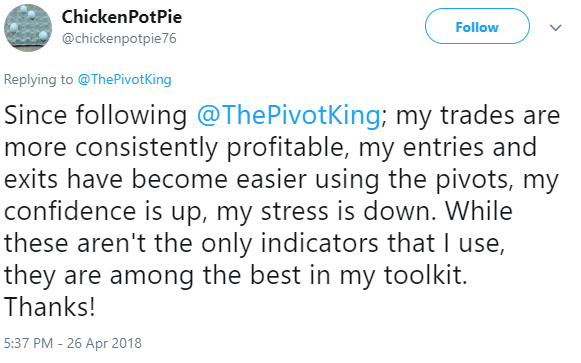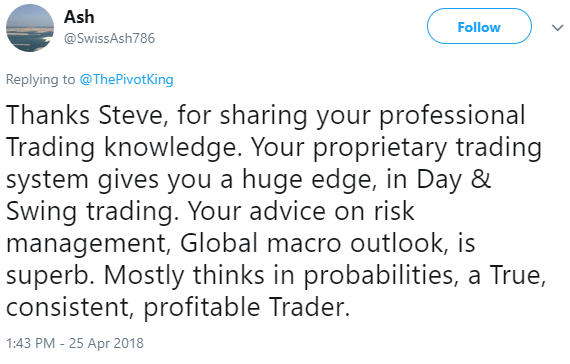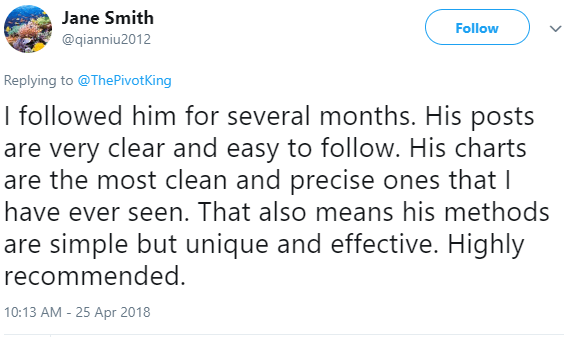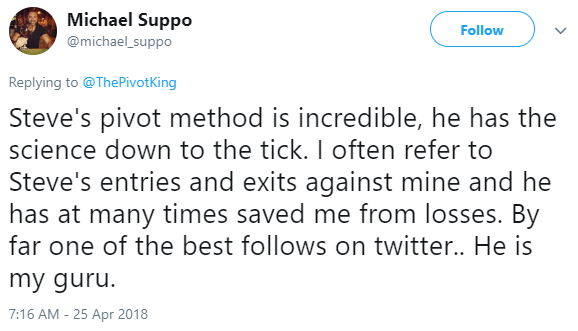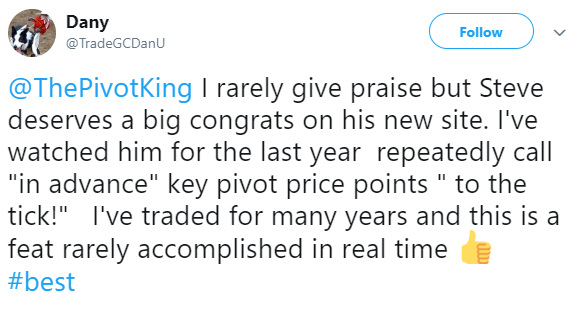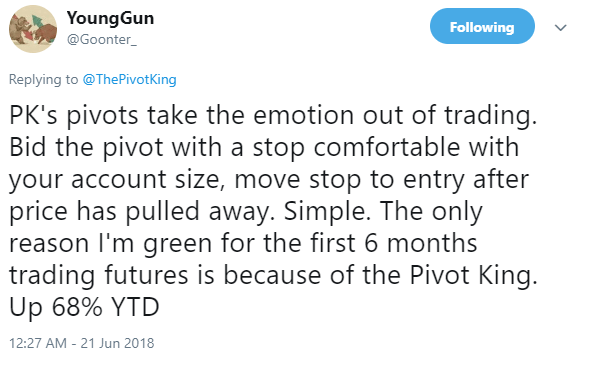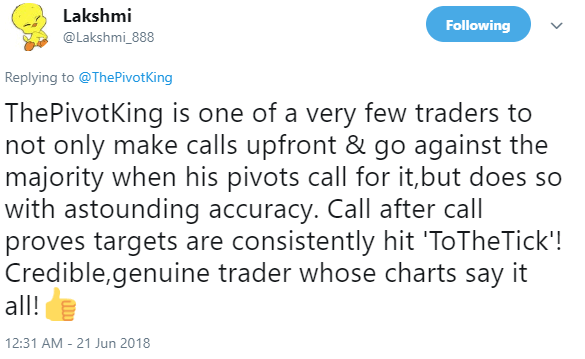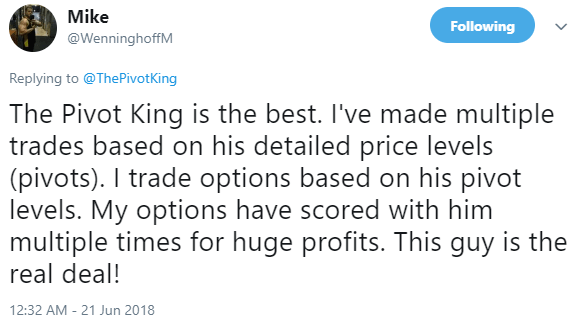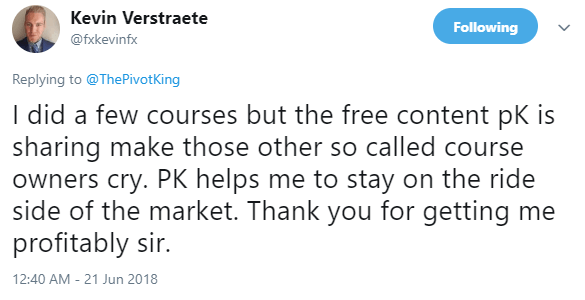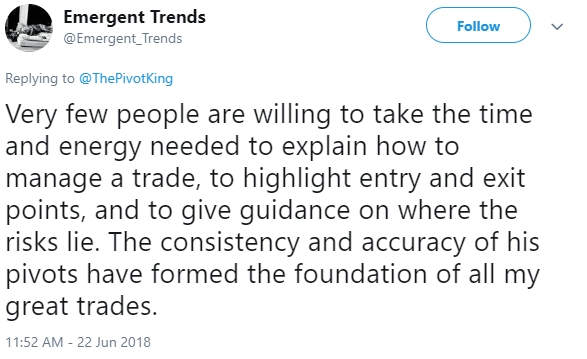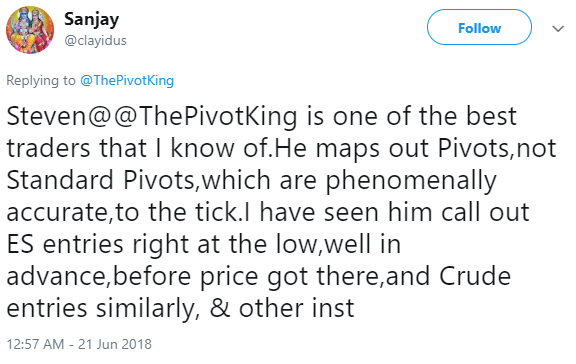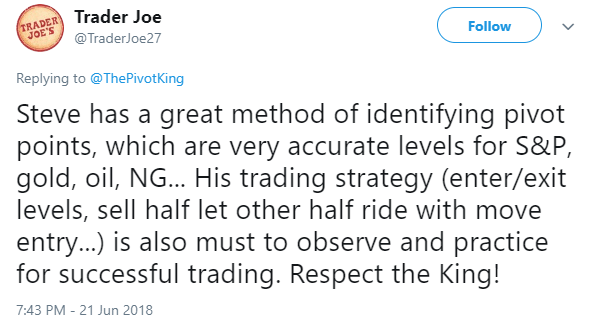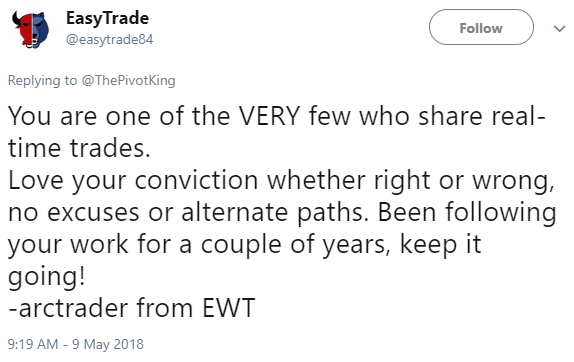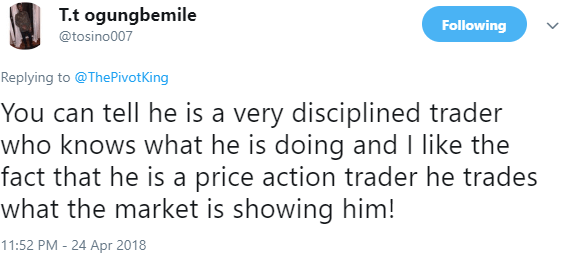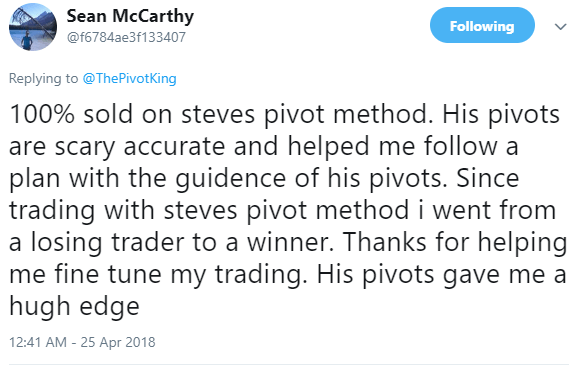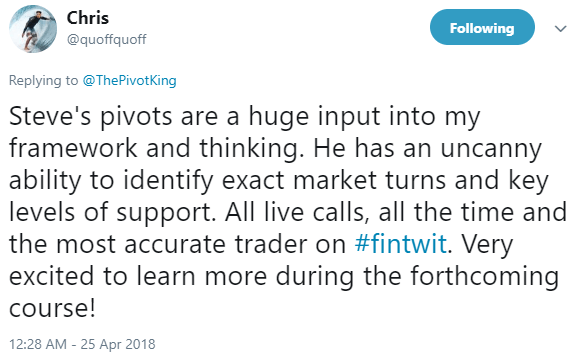 Why Take
The Pivot King Method Course
A lot of the posts in the forum have to do with mapping pivots and finding areas of defined risk entries to trade off. It is highly advisable that members sign up to the course so you can get a better understanding on how these pivot price levels actually work and how to map the pivots which is important you map them the right way. The Pivot King Method Course helps with both day trades and swing trades. You will gain more insight to pinpointing the highs and lows in these markets trading with Steven's proven approach.
Meet Our Analysts
Meet our Analyst Team that comes with becoming a member of TheBesTTraders.com. We just launched TheBesTTraders.com on Sept/30/2018 and we have many analysts already that want to join. For now, we have 3 analysts and we will be adding more in the months to come. Having access to the below analysts and wealth of knowledge will help you in your journey into becoming a profitable trader. You can ask any of the below analysts questions in the forum. They are there to assist you in your trading endeavors. If you are interested in becoming an Analyst on TheBesTTraders.com – Feel Free To Contact Us.
Steven Marcantonio

(The Pivot King)

Founder of TheBesTTraders and Course Author of The Pivot King Method. Trades Strictly Futures (Commodities & Indices)

J. Goldman

(DTP)

Block Trades Specialist/Market Internals Analyst. Trades Futures (Commodities & Indices)

Anna Marcantonio

(The Pivot Queen)

Trades Mainly ETFs and stocks. GLD, GDXJ, SLV, TLT, USO, UNG and much more. Where ever there is a setup in ETFs and Stocks, The Pivot Queen will find them.